Knowing One Another Project
Brick Lane Circle delivered this highly successful community cohesion projects called 'Knowing One Another', through engaging participants from London's diverse communities. They researched and wrote about each others' cultures, origins, migration and experiences in the UK. At the end of the project, a book launch and celebration event was organised at the Rich Mix Centre in Shoreditch in London's East End. The project was managed by Faridha Karim.
BOOK LAUNCH
20 April 2015 | Rich Mix | 6.30-9.00pm
Book Launch Flyer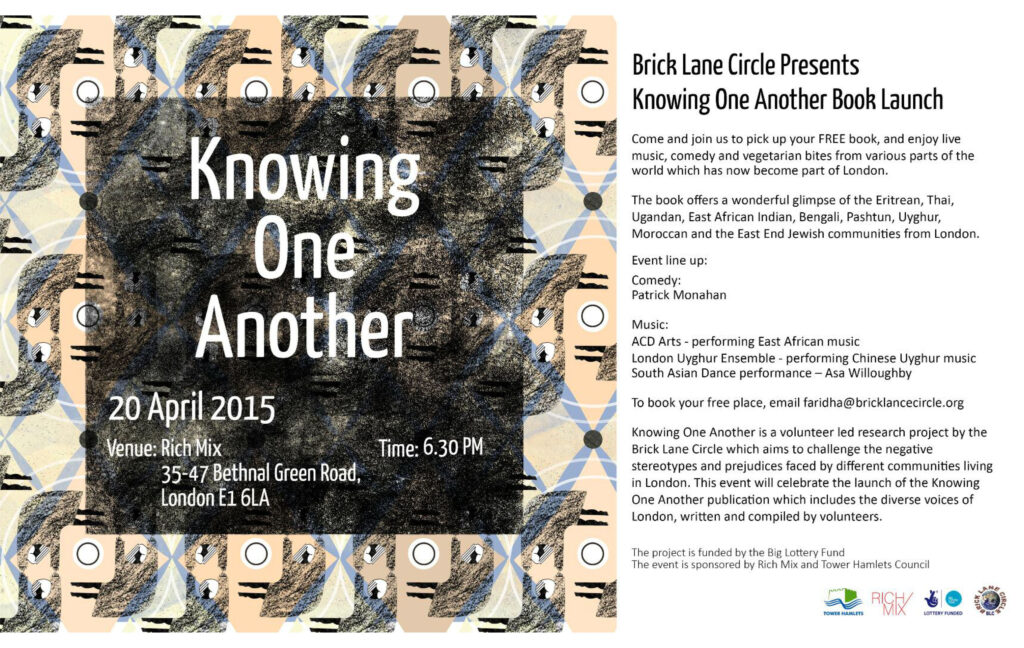 Knowing One Another
'Knowing One Another' was a community volunteer-led research project by the Brick Lane Circle, which aimed to build better relationships between the various communities living in London. The project was funded by the Big Lottery Fund. The publication depicted and informed readers about the migration heritage of London's diverse communities. By bringing the voices of the diverse communities of London together in one platform, 'Knowing one Another' project aimed to challenge the negative stereotypes and prejudices faced by different communities through offering a space to share the diverse experiences and stories.
The researchers who reflected the diversity of London focused on cultural themes which have originated in other parts of the world, such as traditional dress, food, value, expectations, etc. but have been transformed into something new, which not only represents both London and the country of its origin but also represents the unique relationship between the diverse communities who live in Britain.
For example, Chicken Tikka Massala was a British invention by South Asian chefs who responded to the change in the cultural environment. Although the origin of curry is located in South Asia, the cultural location of Chicken Tikka Massala on the other hand can only be associated with the British South Asian community. Equally many communities in London have reinvented or negotiated with their cultural practices due to the relationship with their environment or with other communities, which was only made possible due to their connection with London and/or Britain. Each community volunteer researcher, therefore, explored the roots of the themes by connecting with people from other parts of the world via social media and collecting the voices of the Londoners who are reimagining such themes due to their connection with Britain.
The project also aimed to provide members of the London community with the skills and knowledge to promote community cohesion and become a vehicle for social change. Therefore we recruited volunteer researchers from various cultural backgrounds who received training on social media, photography, research methodology and interpretation. The launch of the book – made up of written pieces from the community volunteers – took place on 20 April 2015 at the Rich Mix Centre.
Knowing One Another books