Tickets
https://www.eventbrite.co.uk/e/knowing-one-another-through-philosophy-tickets-148262702735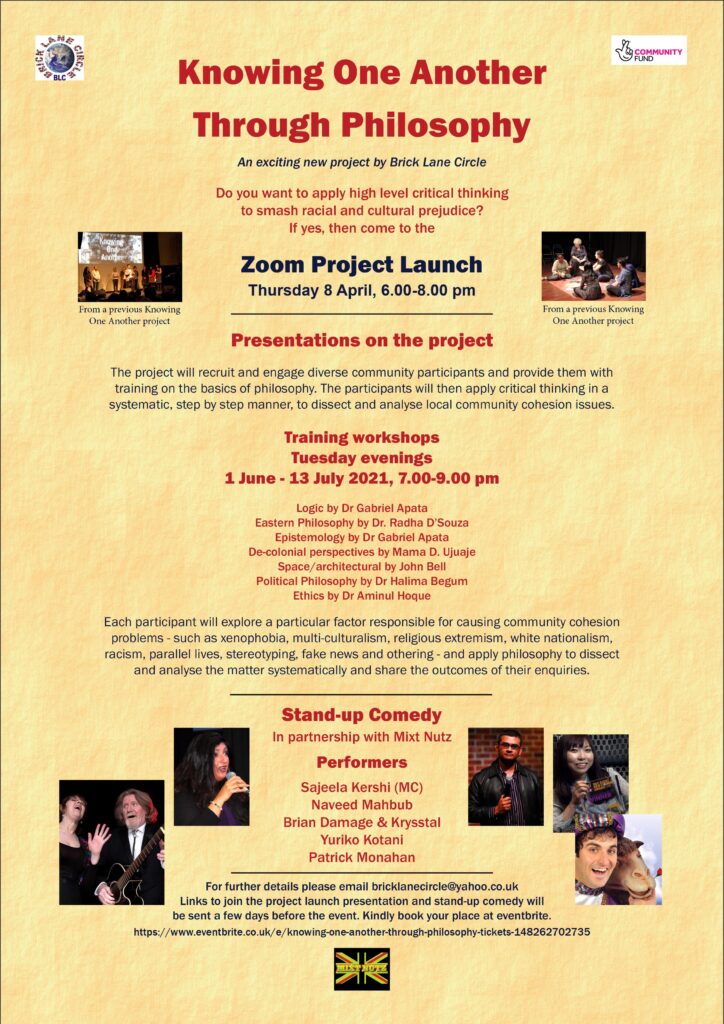 KNOWING ONE ANOTHER THROUGH PHILOSOPHY
An exciting new project by Brick Lane Circle
Do you want to apply high-level critical thinking to smash racial and cultural prejudice? If yes, then come to the ZOOM PROJECT LAUNCH, THURSDAY 8 APRIL, 6.00-8.00 PM
Presentations on the project
The project will recruit and engage diverse community participants and provide them with training on the basics of philosophy. The participants will then apply critical thinking in a systematic, step by step manner, to dissect and analyse local community cohesion issues.
Training workshops – Tuesday evenings
1 June – 13 July 2021, 7.00-9.00 pm
Logic by Dr Gabriel Apata
Eastern Philosophy by Dr. Radha D'Souza
Epistemology by Dr Gabriel Apata
De-colonial perspectives by Mama D. Ujuaje
Space/architectural by John Bell
Political Philosophy by Dr Halima Begum
Ethics by Dr Aminul Hoque
Each participant will explore a particular factor responsible for causing community cohesion problems – such as xenophobia, multi-culturalism, religious extremism, white nationalism, racism, parallel lives, stereotyping, fake news and othering – and apply philosophy to dissect and analyse the matter systematically and share the outcomes of their enquiries.
Stand-up comedy
In partnership with Mixt Nutz
Performers
Sajeela Kershi (MC)
Naveed Mahbub
Yuriko Kotani
Brian Damage & Krysstal
Patrick Monahan
For further details please email [email protected]
Links to join the project launch presentation and stand-up comedy will
be sent a few days before the event. Kindly book your place at eventbrite.
https://www.eventbrite.co.uk/e/knowing-one-another-through-philosophy-tickets-148262702735